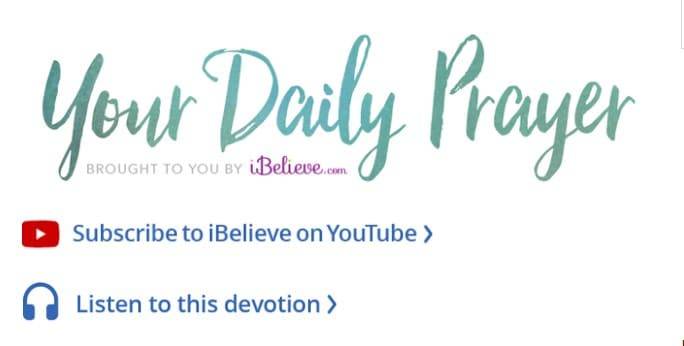 Your Daily Prayer 8 August 2021 – A Prayer for Quieting the Noise
YOUR DAILY PRAYER FOR SUNDAY 8TH AUGUST 2021
A Prayer for Quieting the Noise By Kristine Brown
SCRIPTURE: So Eli told Samuel, "Go and lie down, and if he calls you, say, 'Speak, Lord, for your servant is listening.'" So Samuel went and lay down in his place. – 1 Samuel 3:9 NIV
Your Daily Prayer 8 August 2021 – A Prayer for Quieting the Noise
Sometimes life gets extra noisy. With all the news, emails, messages, and discussions, it's no wonder our minds feel overloaded. As a reforming overthinker, I've mastered certain techniques for quieting my thoughts. But when the world seems out of control, even my best efforts won't suffice.
The priest Eli understood this. When the boy Samuel thought he heard Eli calling him, Eli knew Samuel had actually heard the voice of God. Samuel came running to his mentor, expecting an answer. Eli told Samuel what to do and instructed him to go lay down "in his place." Away from all distractions. We can still learn from Eli's advice today.
When we struggle to quiet the chaos in our minds, God will call us back to our quiet place with Him.
We can benefit from having a special place where we can tune out the world's noise and tune in to God's voice. Maybe yours is a prayer closet, a comfy chair, or on your knees next to a sleeping child's bed. Wherever you call your quiet place, God is calling you there today.
The reality is, some seasons leave little room for going to that place. For finding solitude and listening for God's comforting words. We may be surrounded by little ones needing our constant attention or caring for aging family members. We may be working overtime at our essential jobs or burdened by struggles out of our hands. Yet it's in those times we need God the most.
So whether five minutes or half an hour, let's pray and seek God for an opportunity to go to that quiet place. He is ready to meet us there.
Dear Heavenly Father,
Lately, the noise of this world seems to grow louder and louder. I want to focus on you but get distracted by the chaos around me. I long for a moment of peace but struggle to quiet the noise in my mind and heart. Lord, forgive me for letting distractions of this world draw me away from you. I want to hear Your comforting voice above all else.
Thank you, Lord, for teaching me the importance of having a quiet place. Eli told Samuel to return to his bed and wait to hear from you. In the same way, Lord, speak to me in the stillness. Let me feel your holy presence. You are all I need.
And when the demands of life leave little room for meeting You in the quiet places, I will have peace in knowing You are with me. Your rod and staff comfort me. (Psalm 23:4) Help me to know even a few minutes with you will comfort my overwhelmed soul. You are an ever-present help in troubled times. (Psalm 46:1) In Jesus' name, Amen.
Thanks for reading Today! Your Daily Prayer 8 August 2021 – A Prayer for Quieting the Noise. Please share this with other people.
Pastor Jerry Eze Live Sunday Service 8th August 2021 – Streams of Joy