Your Daily Prayer 4 August 2021 – A Prayer for the Filling of God's Power and Love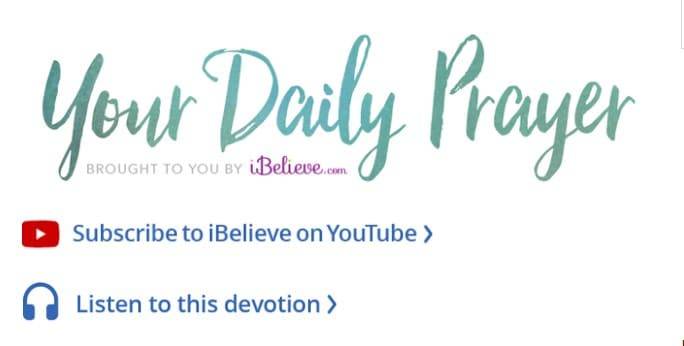 Your Daily Prayer 4th August 2021 – A Prayer for the Filling of God's Power and Love
YOUR DAILY PRAYER WEDNESDAY 4 AUGUST 2021
Prayer for the Filling of God's Power and Love By Debbie McDaniel
SCRIPTURE: "I pray that out of his glorious riches he may strengthen you with power through his Spirit in your inner being, so that Christ may dwell in your hearts through faith. And I pray that you, being rooted and established in love, may have power, together with all the saints, to grasp how wide and long and high and deep is the love of Christ, and to know this love that surpasses knowledge – that you may be filled to measure of all the fullness of God." Ephesians 3:16-19
Your Daily Prayer 4th August 2021 – A Prayer for the Filling of God's Power and Love
God is powerful and loving. And He desires to fill our lives, our days, with that same power and love through His Holy Spirit. Paul prayed this prayer over the Ephesians. He had spent over 3 years with these people, working with the church of Ephesus, he loved them and longed to see them walking closely with God. His desire was that they would be continually strengthened with God's power, and living out their faith with the example of the love of Christ.
We can know this in our heads, yet find it difficult at times to walk it out in daily life. We're busy. We're tired. We feel alone or broken. We're distracted. We get offended. We harbor bitterness or resentment.
But no matter what we might be facing or feeling, when we're willing to stand together as the body of Christ, dependent on God for the Spirit's fresh filling of power and love, all other things lose their hold on us.
For God's love encompasses all. It reaches every dark crevice and fills every need or longing. It gives power to forgive and to let go of the past. It releases sin's hold and gives peace to the hurting. It is powerful and surpasses our own knowledge and understanding.
It is "wide." It stretches to a greater expanse and extent than we can ever imagine.
It is "long." It encompasses the length of our days, before and all beyond.
It is "high." It reaches to the highest heavens.
It is "deep." It extends to the deepest pit.
His love never fails.
Dear God,
We thank you that you indeed are powerful and loving, that out of your glorious riches you strengthen us through your Spirit in our inner being. We ask you for the fresh filling of your Holy Spirit, we ask for your power and love to fill us. We thank you that as believers we know that Christ dwells richly within our hearts through faith. We pray that you would strengthen our roots and establish our lives firmly in your love.
When the world shouts hate, help us to love. When the past won't let go, help us to love. When the enemy taunts with lies and surrounds us with darkness, help us to love. When a relationship feels broken or we're betrayed or rejected, help us to love.
Help us to love, and to keep on loving. By the power of your Spirit.
Even when it seems impossible.
Even when it doesn't make sense.
May our lives be filled with your goodness and power, today and every day, as we walk in your Spirit of love.
In Jesus' Name, Amen.
Thanks for using Today's Your Daily Prayer 4 August 2021 – A Prayer for the Filling of God's Power and Love. Please share this with other people.
Daily Prayer and Bible Verse 4 August 2021 – Morning Prayer