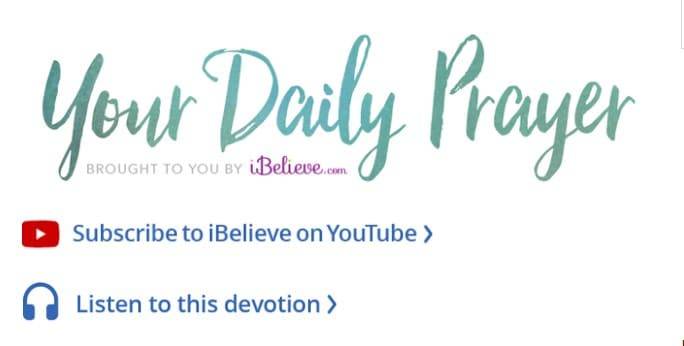 Your Daily Prayer 25 July 2021 – A Prayer for When Plans Change
YOUR DAILY PRAYER SUNDAY 25TH JULY 2021
A Prayer for When Plans Change By Alisha Headley
SCRIPTURE: "There are many plans in a man's heart, but it is the Lord's purpose that prevails." – Proverbs 19:21
Have you expected your life to go one way and then something happens that throws you off from your plan? Perhaps it was the career path you thought you were heading toward, yet you have found yourself in something completely different than you first set your heart on. Maybe you thought by the time you were 30-years-old, you would be married with a child on the way. You thought things were supposed to happen according to your plan, but the reality you are living in is nothing of the sort.
Your Daily Prayer 25 July 2021 – A Prayer for When Plans Change
I've had many detours in my life, the most recent being when I lost my job in a career I loved. It was definitely by God's design in the end, but this was a change of plan I didn't ask for nor was it on my timing.
I had to walk through the idea that my plans had changed and remind myself that it's "the Lord's purpose that prevails."
The thing is, we need detours and plans to change. It is through the detours God always takes us to where we're supposed to go in the long run. It's ok if it doesn't look the way we thought it was going to look, because thankfully, God knows the bigger plan.
God is God. Oftentimes a detour may be His way of getting you to look at Him and fulfill His purpose.
Your whole story.
Your entire future.
His purpose prevails.
You can trust in Him, even when your plan derails off track, because He is good, in control, and His plans are always greater than our plans.
Rest in the assurance that you can trust the One who knows what's ahead.
Dear Lord,
We love you. We thank you that no detour or change of plans is out of your sight. Thank you that you have our life in the palms of your hands, and your purpose is for your glory. Thank you that even though we don't understand the change of plans we see in front of us, that we can trust in you and your provision over us. We trust that you have plans to prosper us and not to harm us.
Lord, we ask that you help us trust you more. Remind us that you are good even when good isn't showing up according to our plan. Forgive us for doubting you, for worrying, and for trying so hard to work together our plans on our own. We thank you in advance for positioning us for your purpose, for carving out pathways and detours so we can step into your mighty plan to help advance your Kingdom.
We choose to believe that you are able to accomplish far more, do far greater, than we ever thought possible. You are a good Father who has a good plan and purpose laid out before us. We lean on you for your guidance and direction.
In Jesus' Name, Amen
Alisha Headley is a writer and speaker who has a desire to meet the everyday woman in her everyday life with biblical truth. Healing from a chapter of life consumed with lies she once believed about herself, she is inspired to point women to Christ to experience the freedom and power to overcome those lies with the truth written in God's word. Alisha is a proud wifey and dog mama living in Charlotte, North Carolina.
Pastor Jerry Eze 25th July 2021 Sunday Live Service at Streams of Joy Abuja