Your Daily Prayer 23 July 2021 – A Prayer for Trust During Our Hardest Weeks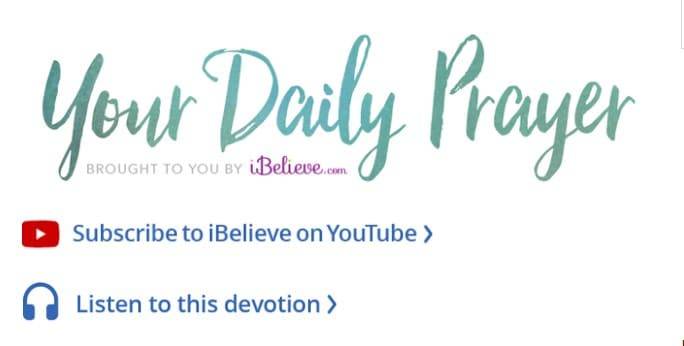 Your Daily Prayer 23rd July 2021 – A Prayer for Trust During Our Hardest Weeks
YOUR DAILY PRAYER FOR FRIDAY 23 JULY 2021
A Prayer for Trust During Our Hardest Weeks By Chelsey DeMatteis
SCRIPTURE: He who dwells in the shelter of the Most High will abide in the shadow of the Almighty. – Psalm 91:1
Your Daily Prayer 23rd July 2021 – A Prayer for Trust During Our Hardest Weeks
Have you ever felt like some weeks seem like an entire season of life? Recently, I was given some of the most exciting news laced with an unknown that had me in despair. It sounds odd trying to put what took place into words, but that is the best I can do. This was a moment where joy was expounding and fear nearly shackled me.
I learned two things about myself in this very long week: I have not overcome my desire for control, and I saw once again how important our prayer warriors are. Two weeks before this, I had spoken to a friend, sharing with her that I really felt like I'd overcome this area of struggle in my life. I believed I had fully handed my desire to control over to the Lord. Clearly (and obviously) I couldn't see what was coming, this news that made me drop to my knees. I had not fully overcome this struggle for control, and the Lord used it to draw me nearer to himself.
Over the next few days, I reached out to other believers to pray for me. I couldn't and shouldn't carry the weight of what I was feeling on my own. Through my heart's cry of reaching out, I found myself feeling overwhelmed at the magnitude of knowing so many believers were lifting up my name to the Lord Almighty. They sent Scripture, checked in throughout the week to see how I was and continued to let me know they were praying very specifically over my body.
A verse I often pray over myself in times of despair is Psalm 91:1. It is a promise for all those who dwell in the shelter of the Most High. When He is our dwelling place, we now abide in the shadow of the Almighty. What an incredible promise this is. When I picture it as I pray, I imagine leaning into the arms of my Creator; seeking refuge, peace, and safety. Resting securely in the One who holds all my days and isn't surprised by anything.
I'm not sure what your season looks like, but I do know that we serve a God who calls us to dwell in Him and abide in His ways. Through these hard seasons, whether they are a week-long, or years-long, we are called to bring everything before the Lord in prayer. We are to call upon other believers to cover us and lift us up before the Lord; for healing, redemption, peace, direction, wisdom, whatever it is you feel led in prayer for by the Lord make it known to Him.
Today if you're reading this finding yourself in a place of feeling like you have no one to pray for you, look up solid local churches in your area and submit your prayer requests. There are prayer teams who pray 24 hours a day, 7 days a week on behalf of God's people. And if you are plugged into a church, ask to be put on a prayer chain list.
Pray with me…
Lord, As I walk through the unknowns help me look to you. In the moments when life feels too heavy or the joy is overwhelming, stir up in me the reminder to call upon other believers. Father, as I grow in my relationship with you I pray for a heart that seeks its dwelling in you alone and chooses to abide in your ways always.
In Jesus's name, Amen.
Thanks for reading Today's Your Daily Prayer 23 July 2021 – A Prayer for Trust During Our Hardest Weeks. Please share with other people.
Prayer Points 23rd July 2021 For Open Heaven Today