T.D. Jakes 12th August 2021 Sermon: Defense Against Offenses: Get Out of Your Feelings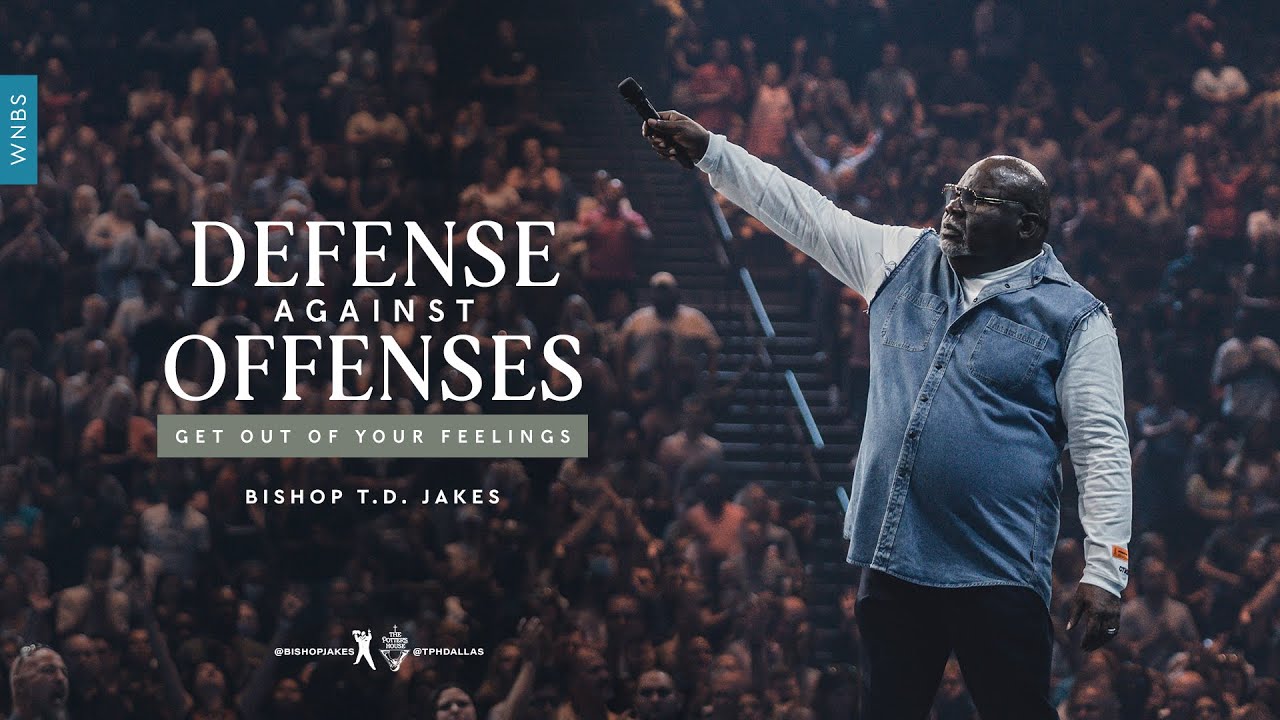 T.D. Jakes 12th August 2021 Sermon: Defense Against Offenses: Get Out of Your Feelings
Watch T. D. Jakes Message For 12 August 2021 at The Potter's Church
In this day and age, we are either offending those around us with uncouth words or we've been offended by those we thought we could trust. If we're offended, God will protect us from their stinging words and biting tongues and alleviate their weight from our souls. If we're offending, the Lord will purge our spirits of our internal iniquities and restore us to a loving heart and open hand. In both instances, we prevent offense by forgiving one another — just as Christ forgave us on the cross! Turn that offense into a defense that gets you out of your feelings and into your faith!
Message: "Defense Against Offenses: Get Out of Your Feelings"
Scripture: Luke 17:1-10 (KJV)
Speaker: Bishop T.D. Jakes
Date: Aug. 11, 2021
Watch Below;
Bishop T.D. Jakes 12th August 2021 Message: Defense Against Offenses: Get Out of Your Feelings
T.D. Jakes 12th August 2021 Sermon
Subscribe to the official T.D. Jakes Ministries channel to stream our latest messages, your favorite sermons from over the years, and much more.
Hit the 🛎 Notification Bell so that you never miss our most recent video.
Attach your seed to this anointing, sow into good soil! http://bit.ly/2Tx7cFw or text TDJM [space] and dollar amount to 28950 [Example: TDJM 50 (for a donation of $50)]
Follow Bishop T.D. Jakes on Social Media:
Instagram: https://www.instagram.com/bishopjakes
Twitter: https://www.twitter.com/bishopjakes
Facebook: https://www.facebook.com/bishopjakes
Access sermons, conferences, and more exclusive content:
TDJ OnDemand: http://ondemand.tdjakes.org
Bishops Village: https://www.bishopsvillage.com
Bishop T.D. Jakes is an influential leader and serves as Senior Pastor of The Potter's House, located in Dallas, TX.
Named "America's Best Preacher" by Time Magazine, T.D. Jakes' voice reverberates from the world's most prominent stages. His worldwide impact is felt through high profile conference series and an empire that spans film, television, radio, best-selling books, and the T.D. Jakes School of Leadership.
After more than 36 years in ministry, Jakes continues to be a leading voice of innovation, inspiration, and influence. Married to First Lady Serita Jakes for more than three decades, he is the father of five and a proud grandfather.
Daily Prayer and Bible Verse for 13th August 2021 – Morning Prayer