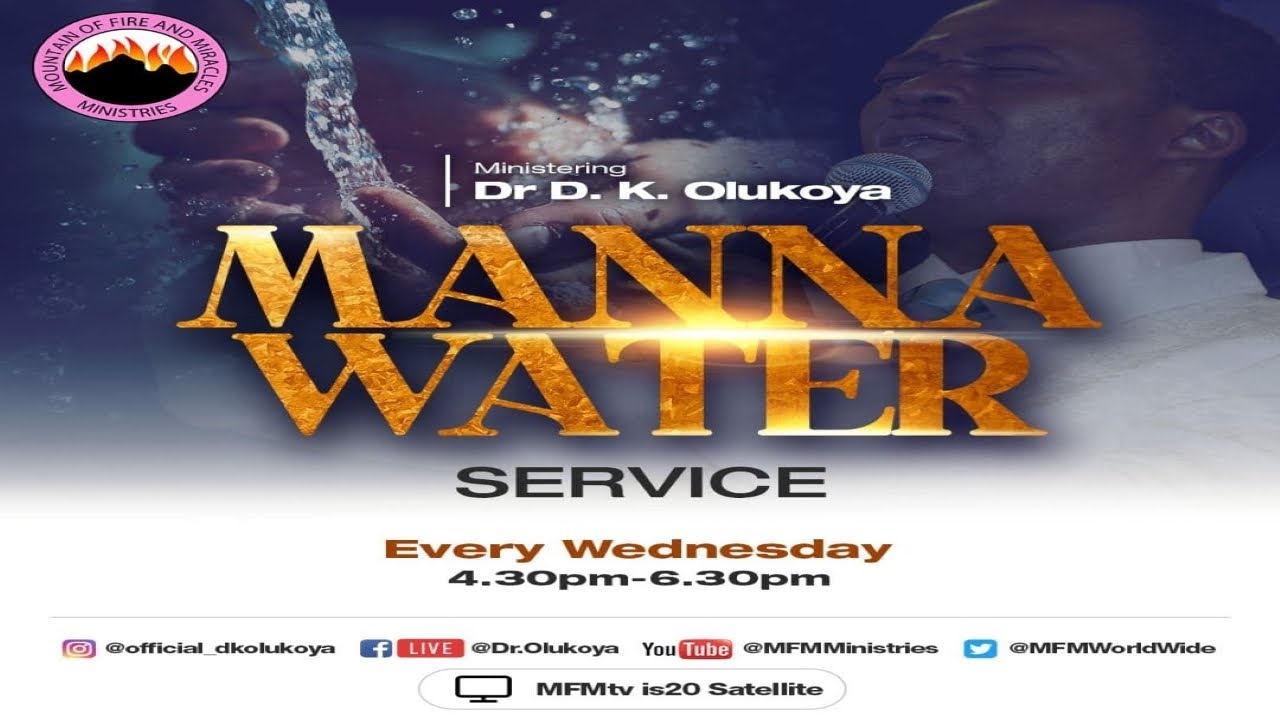 MFM Manna Water 16 June 2021 Live Service with Pastor D. K. Olukoya
Watch Livestream Today; MFM Manna Water 16 June 2021 with Pastor D. K. Olukoya live from Mountain of Fire And Miracle Ministries.
Welcome to MFM MANNA WATER SERVICE 16th June 2021 2021 MINISTERING: DR D. K. OLUKOYA (G.O MFM WORLDWIDE). Kindly like, subscribe and share with your friends and family. God Bless you In Jesus Name. Amen
Watch below;
MFM Manna Water 16 June 2021 Today Live Service with Pastor D. K. Olukoya
MFM DAILY DEVOTIONAL FOR WEDNESDAY 16TH JUNE 2021 WRITTEN BY PASTOR D.K OLUKOYA
TOPIC: HOW TO GO TO HELL
Fire Scripture: Isaiah 5:14-19
MFM DAILY DEVOTIONAL OUTLINE:
Today's devotional is a serious food for thought. Hell is the opposite of heaven. Hell and heaven are the final destinations for all who dwell on earth. You only have one chance to decide whether to go to hell or heaven. This one chance is your current life. Hell was not created for man. It was created for the devil and his rebellious angels forever. It is therefore sad to know that some human beings are joining the devil in hell.
Luke 16:23 records a man's experience in hellfire: "And in hell he lift up his eyes, being in torments…" Note that the Bible says, 'torments.' This suggests that there are levels of torments, afflictions and pain in hell. This is not a place you want to spend eternity. There are many ways to go to hell. This short devotional cannot exhaust all of them.
What you must know is that hell keeps expanding to accommodate those who want to go there. It is always open to accommodate both careful and careless transgressors:
· Those who seek to please their flesh rather than discipline themselves to please God.
· Those who are filthy, unholy and divinely detestable.
· Those who are fearful and lack the courage to do what God wants them to do.
· Those who worship idols. I want you to note that anything you focus on outside the will and purpose of God is an idol.
· Those who rebel against the authority of God established over their lives through spiritual and physical instructions.
· Those who commit sexual immorality of any form.
· Those who are unthankful to God.
· Those who pamper their weaknesses · Those who reject Jesus as their Lord and Saviour
· All liars.
The thermometer to gauge where you are going from here is the level of your compliance to the commandments of God.
Memory verse: 2 Thess. 1:9 – "Who shall be punished with everlasting destruction from the presence of the Lord, and from the glory of his power."
Motivational Quote: Those who sin die. Those who die in their sins will have satan as their father forever.
Prophetic Word: The devil shall not write the last chapter of the story of your life, in the name of Jesus.
HYMN: Take Me, O my father
Open Heaven 17 June 2021 Devotional Today – Prayer Works